Instant motion control is now yours! Put the moves on your models with PowerPak 1. Over 50 assorted moves, including:
swordfighting, kicks, walks, runs, dances, arguments, waiting around, gymnastics,
kidsplay, and more!
To view the complete list of motions, click here to download the catalogue (182k PDF).
---
PowerPak 1 is available for download in the following formats:
Life Forms (LFA) - Lightwave 3D (LWS bones) - 3D StudioMax (MAX) - 3D Studio Max (3DS) - ElectricImage (BVH*) - Maya (MEL) - PowerAnimator (ASF/AMC) - Cinema 4D (C4D) - Poser 3 (BVH*) - StudioPro (SHM) - trueSpace (SCN) - BioVision (BVH)

Note: When using PowerPak animations with your mesh/skeleton models in other applications, it is easiest to build your mesh around the PowerPak skeleton. This helps you avoid scaling problems. If you already have a skeleton built and would like to map the motion from the PowerPak skeleton to your existing skeleton, we recommend using the Joint Map Editor feature in Life Forms Studio 4.0. More information can be found in the FAQ pages.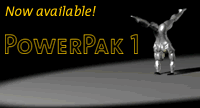 Watch the Preview Movie
320x240 - 4.7MB QT3 Movie